Color Photographs of 1920's England
It's rare that you see color photos from the 1920s. In 1928, under George V's reign, National Geographic photographer Clifton R. Adams traveled throughout England to capture everyday life in both the countryside and towns. He used cutting technology at the time, called Autochrome which captured color photos on dyed potato starch.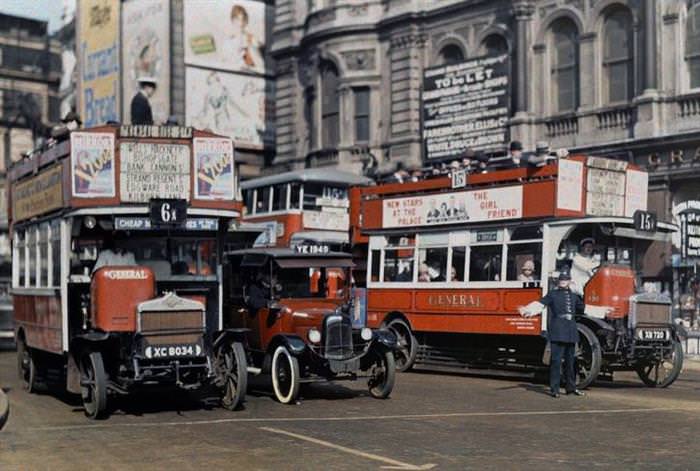 In London's Trafalgar Square, a policeman directs traffic at an intersection.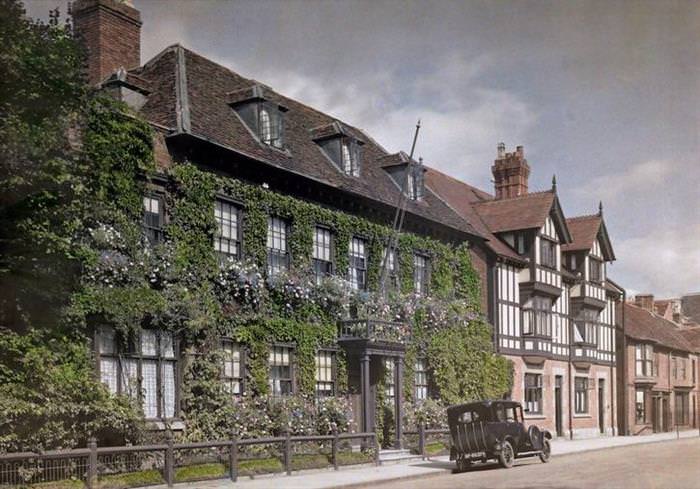 A typical house of the era, covered in vines, in Warwickshire.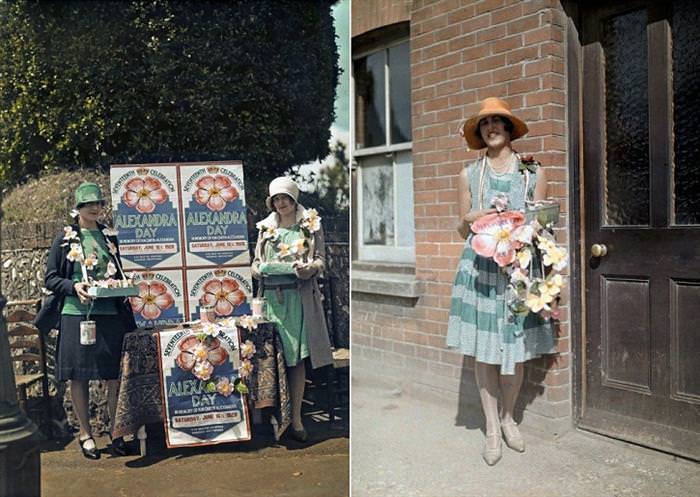 Alexandra Rose Day commemorates the arrival of Princess Alexandra of Schleswig-Holstein-Sonderburg-Glücksburg, from Denmark to Britain, who would later marry King Edward VII. To mark the anniversary young women would sell paper roses, whose proceeds would go to Alexandra's favorite charities.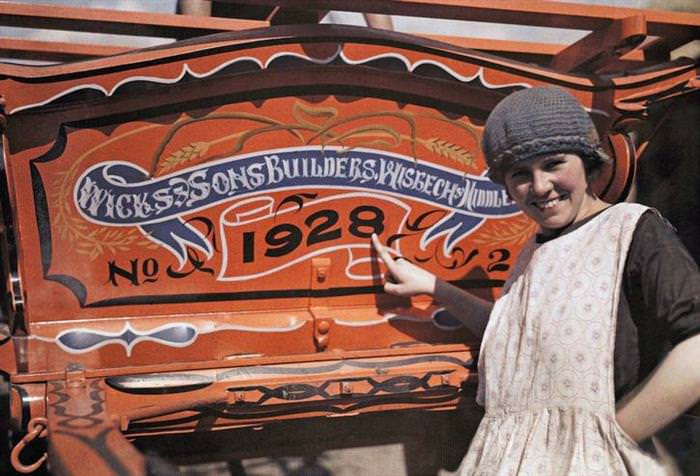 1928 was also the year women received full voting rights with the passing of the Equal Franchise Act. Prior to this, only women over the age of 30 were allowed to vote.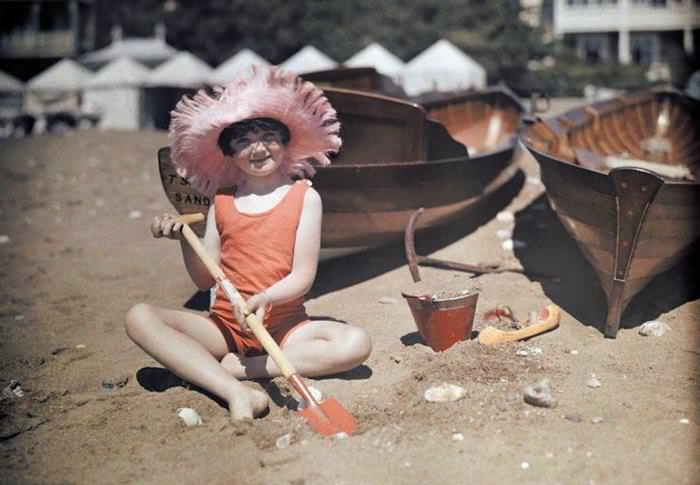 A day at the beach. A young girl plays in the sand at Sandown on the Isle of Wight.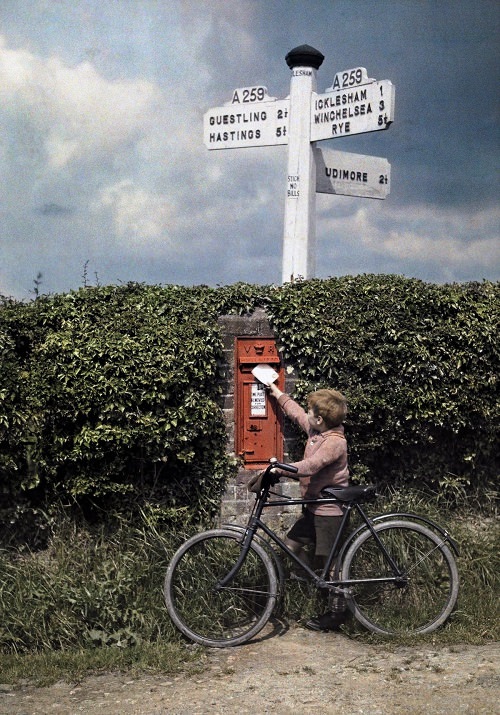 A young boy and his bicycle in Sussex, mailing a letter in a hedgerow postbox.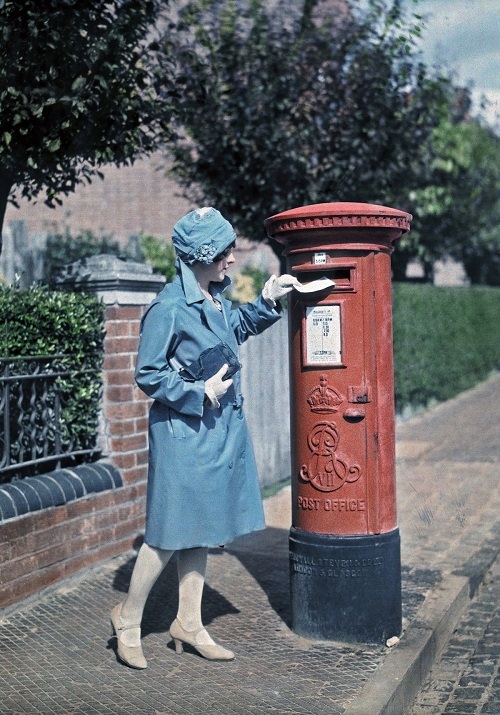 A young women mails a letter in Oxford.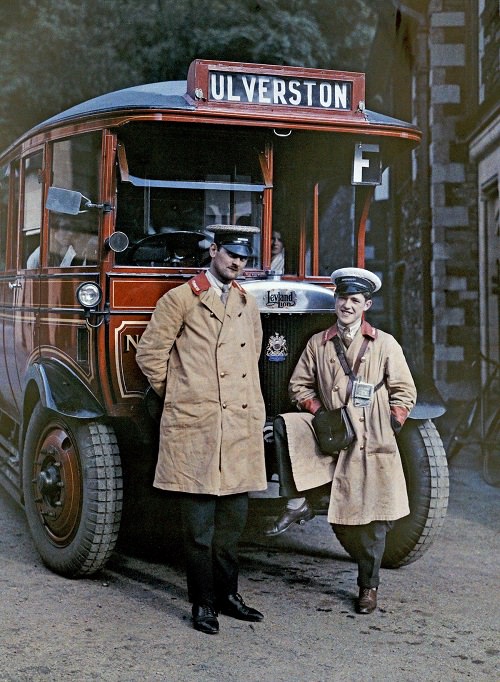 In Ulverston, Cumbria two bus drivers pose in front of a tour bus.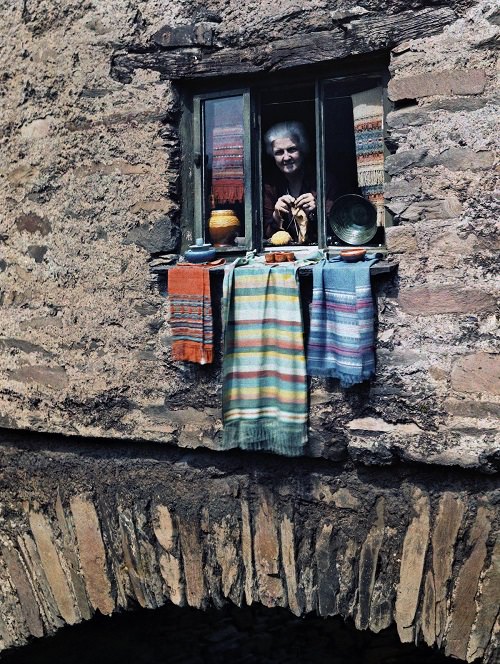 In the Lake District, a woman making crafts sticks her head out of her bridge house.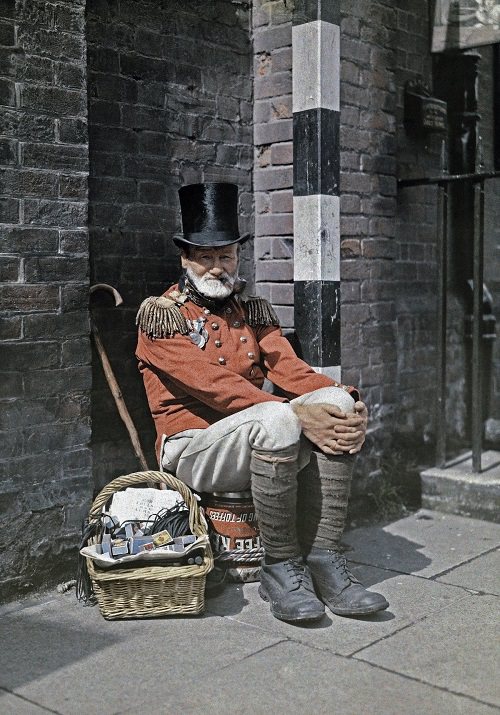 In Canterbury, a war veteran sits on a the sidewalk selling matches.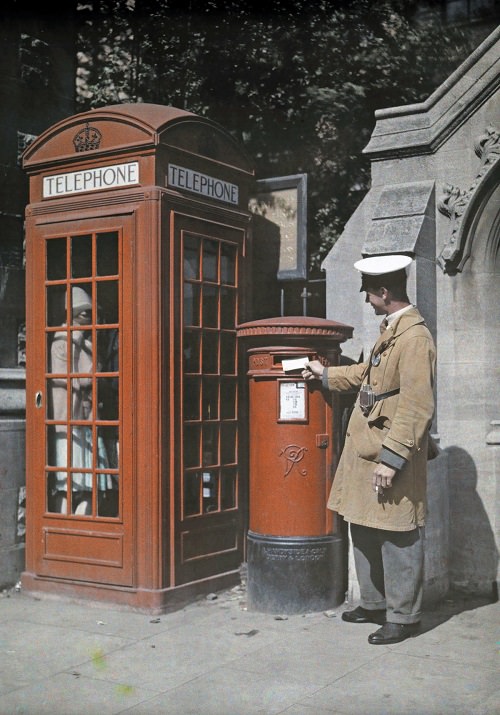 A telephone booth and postbox on Oxford's high street. In the UK, the network of national telephone booths, began in 1920.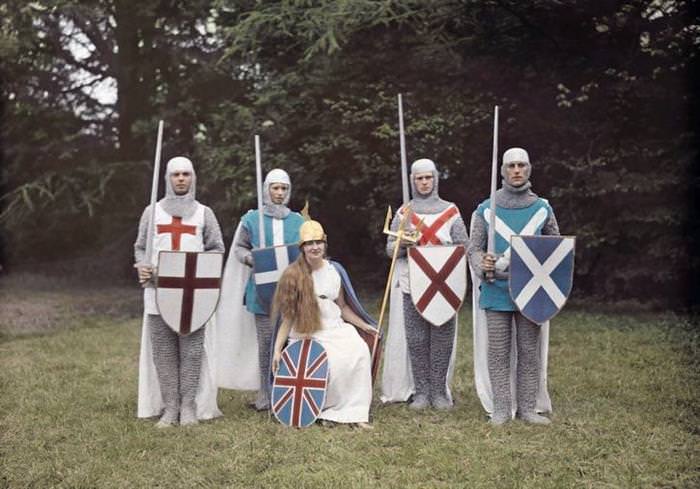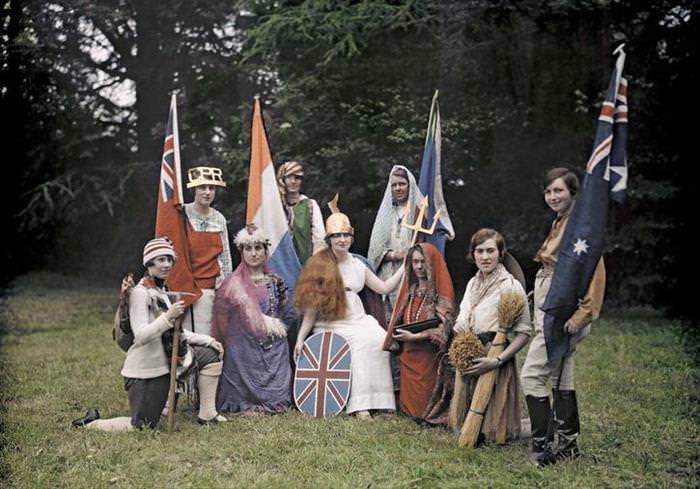 Actors in costume for a pageant, dressed as Britannia, with her knights, and colonies.
May also interest you: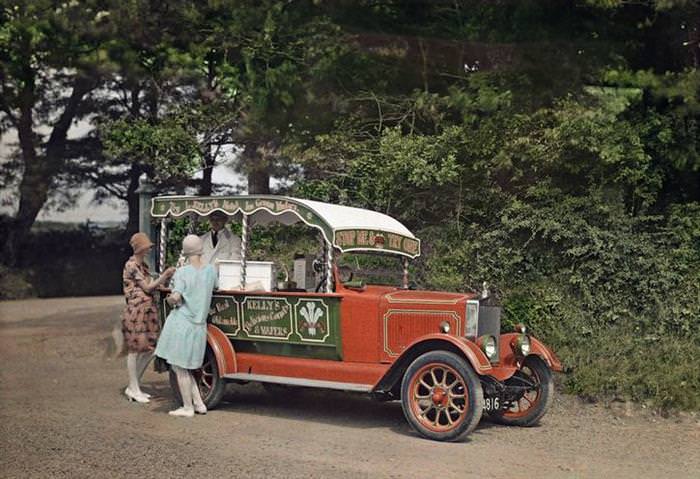 In Cornwall, women buy Kelly's ice cream, still popular today, from a vendor out of a converted car.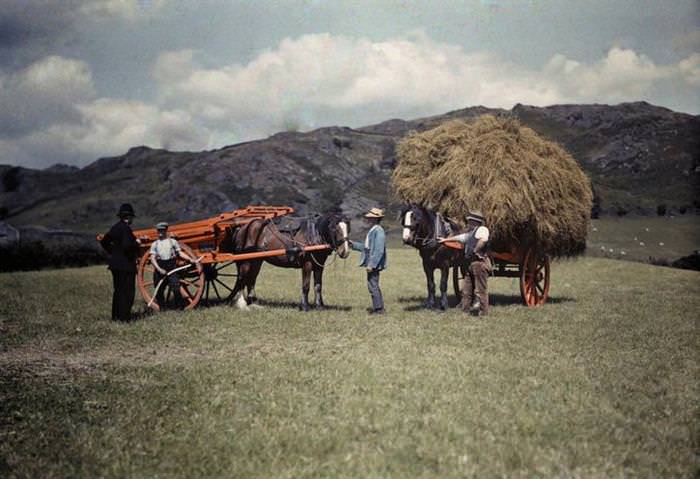 In Lancashire, a police constable greets local farmers gathering hay.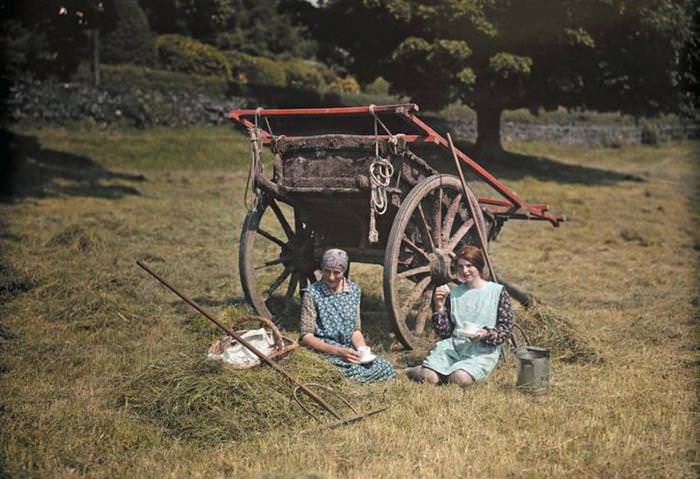 In Lancashire, two women rest from work to enjoy a picnic lunch in a hayfield.
In Crowland, Lincolnshire, a farmer poses in front of his cart. Decoy Farm now houses a recycling center and housing estate.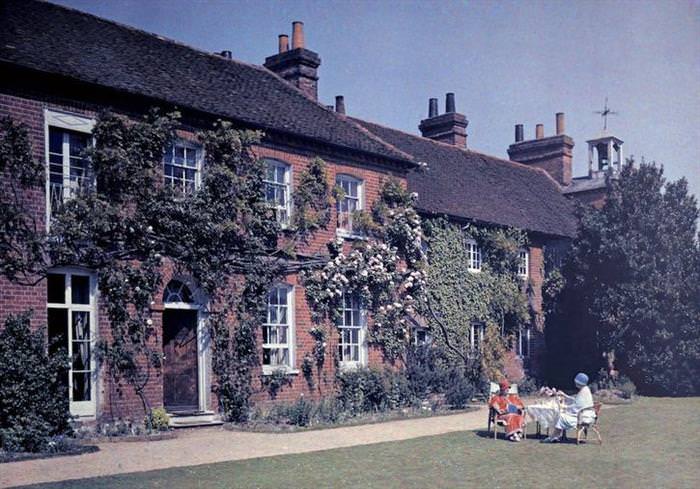 Women enjoy a spot of tea in front of the Clock House, in Buckinghamshire. This grand house used to be a hospice, but nowadays is a guesthouse.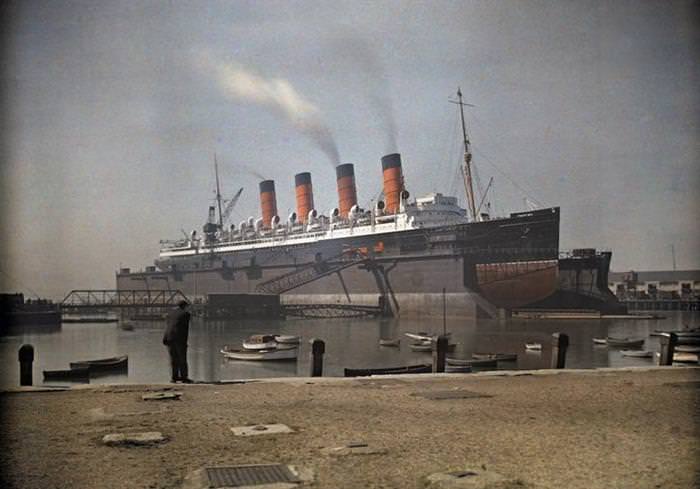 The Cunard SS "Mauretania", in the docks of Southampton, Hampshire.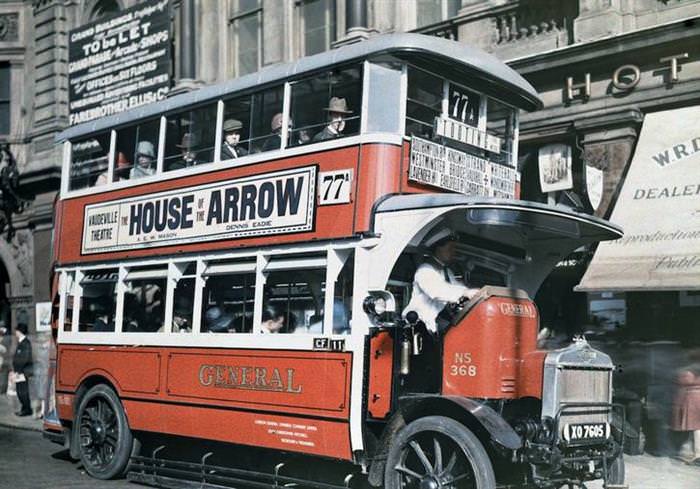 People boarding a double-decker bus in central London.